Tutoring you can trust.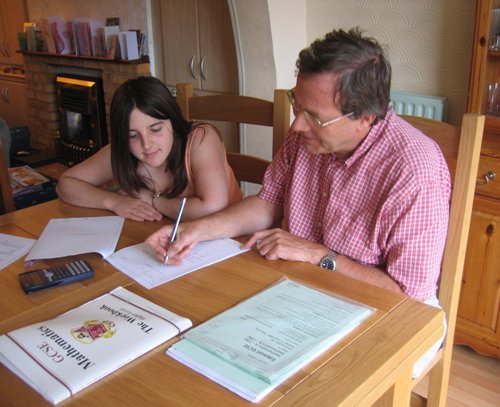 We provide highly qualifed, fully vetted tutors in all subjects and for students of all ages and abilities. We carefully match tutors to the needs of the student and monitor tuition to ensure high standards are maintained. Over 80% of our tutors are qualified school teachers and the remaining few are highly qualified professionals, (many with PhDs) that have extensive tutoring experience. We never recruit undergraduates or students for tutoring assignments.
Progress Tutors has been providing quality tuition since 1997 and is still run by its founder and proprietor. It is completely independent of other organizations and is not a franchise business.   We are proud of our high standards and are continually trying to improve our service for the benefit of everyone that uses it. Providing a personal, friendly and caring service is extremely important to us.
It is important to get the right one-to-one tutor from the start!
No matter how qualified or experienced a tutor is they all have different personalities and often get better results with certain types of students.  Some tutors work better with highly motivated students aiming for As and A*s whilst others work best with less confident students.
Getting the right tutor from the start can make all the difference!
What to expect when you contact us for a tutor
You will find us to be friendly, supportive and keen to help you find the best tutor for your child.
We will listen to what you have to say and spend the necessary time to ensure we have enough information about your child to carefully match them to a tutor.
A happy customer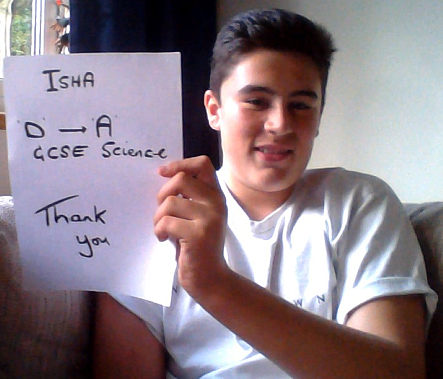 As a parent all you want is the best possible education for your child. However, when and if there is a problem you need to find the best possible solution. Having spent time discussing Ben's GCSE science short fallings, Maria reassured me that she would be able to find the most appropriate teacher to address the issues. Ben started one-to-one lessons with Isha and from the first day it was clear that Isha was as committed as Ben to achieve the best results possible. Although they both worked very hard, Isha ensured that Ben was comfortable to question any misunderstanding that he had and this was done with plenty of laughter. She also assured Ben that he could contact her if he was unsure of something. On more than one occasion Isha called me and asked if they could have an extra 1/2hr to give Ben the help he required. Ben always looked forward to his lesson and when he got his results it was Isha who he wanted to call because he knew she was waiting at the end of the phone! A huge thank you to Progress Education, Maria & Isha – Ben was taken from a D to an A – a grade above what he was predicted!

Jo Carter, Science GCSE. September 2013
 Revision to boost your exam grades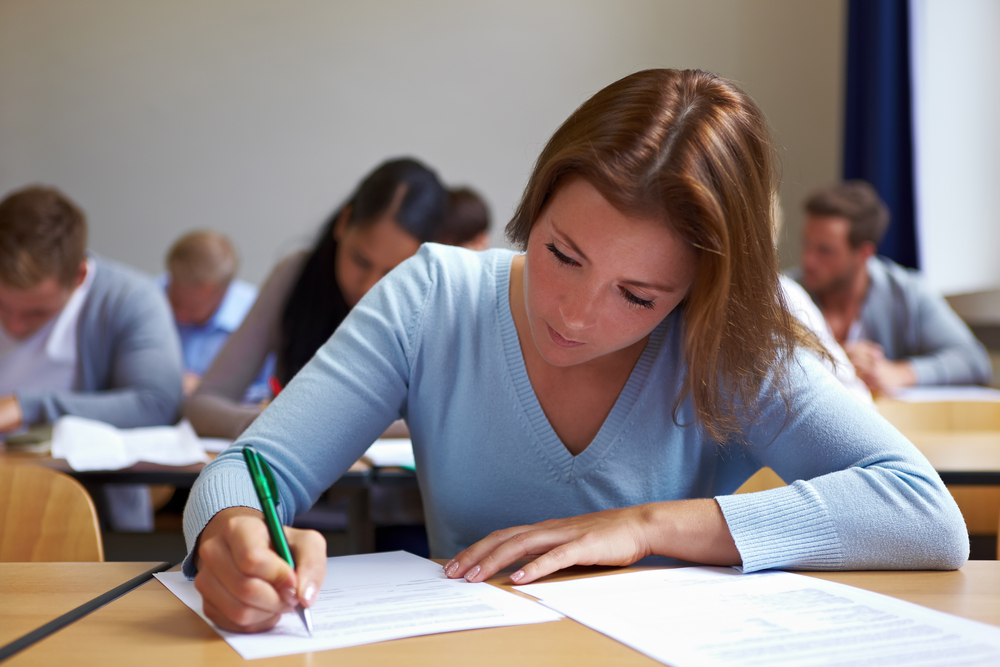 Why so many students underachieve in their exams
We understand that parents want to see the hard work invested in tuition reflected in their child's exam results.
Whilst some students are naturally good at performing in the exam room, many are not.
Despite their hard work, effort and knowledge of the subject many students underachieve in their exams.
Revision and exam technique are skills in their own right and many students have never been taught these skills.
Helping  students achieve the exam grades they deserve
In 2001 we introduced the perfect addition to our home tutoring service.
Revision courses that help students learn how to demonstrate their knowledge and understanding of a subject to achieve the highest possible marks in the exam room.
Each course is carefully planned to take into account the individual needs of the student and their specific exam board. The course tutors are carefully selected for their  examination teaching experience and their enthusiasm to help students reach their potential.
Who am I?
I take care of tutor matching, monitoring and revision courses
For most of my life I have lived in Eltham, South East London. I went to St Thomas More Catholic primary and secondary schools. The most important thing I learnt from school was the importance of treating people how you would like to be treated. Life can be difficult but keeping this in mind has made the decision making and day-to-day running of Progress Tutors straightforward.
Whether we are recruiting tutors, matching students and tutors or monitoring, I always have the child's best interest at heart. I'm not perfect but I try my very best and expect all my tutors to do the same. I always ask myself … "If that was my child would I give them that tutor?" If the answer is YES then I know I am doing the right thing.
My background in one-to-one tutoring
I had many interests as a child. Including gardening, dressmaking and dog training. However, it was my love for music and teaching that led me to study for a degree in music education.
Following my degree I enjoyed 15 years of one-to-one piano teaching, during which time I taught over one hundred students. The biggest insight for me was that irrespective of their  level of expertise at the time of starting their lessons, I was able to help over 90% of my students achieve a distinction in their exams and never had a fail. It taught me that most children can go on to be high achievers with the right support and guidance.
It's such a pleasure when I receive Christmas cards from past students (now working) keeping me up-to-date with their lives. Our time together all those years ago meant more than simply learning the piano. It was about our journey together.
Why I set up Progress Tutors
Having tutored the piano for many years I was confident I knew what was required for successful one-to-one tutoring.
In 1997 I decided to set up Progress Education (now Progress Tutors).  I chose the name "Progress" because  I believe this is the most important outcome that comes from tutoring a child. That is, every child should be moving forward and making progress.   A* grades may follow but hard work and progress come first.
I  remember a "Year 8" student that struggled with maths and was in the lower group at school. She seemed to click perfectly with her tutor and over the years gained so much confidence that she went on to take 'A' level maths and achieve a B grade.  A complete shock to her Mum who told me at the start of the tuition maths wasn't her favourite subject.
Over 16 years I have helped thousands of children but it's the feedback from parents and students that make everything worth while.
Meet the team
 I take care of tutor recruitment
I am delighted to be responsible for the recruitment of home tutors and revision course tutors.
I have been a successful home tutor with 'Progress' since 2006 and have also worked closely with Maria and many excellent  tutors on the annual GCSE, A- level and 11-plus revision courses.  For this reason I am fully aware of the high standard expected by our students.
My job is to search for quality tutors and to recruit them by following  a strict vetting procedure ensuring all new tutors have the qualifications, experience and friendly personality we are looking for. This  maintains a  high  standard of tutors and also helps Maria match tutors and students effectively.
My teaching experience:
After completing a BA(Hons) degree in English literature in 2000 and realising I had a passion for teaching, I embarked on a secondary PGCE course at Kent & Medway Teacher Training Group which I successfully completed in 2003. This led to me being awarded a QTS(qualified teacher status).
I developed a teaching career working in secondary schools,  further education colleges including one year in an international school abroad. I also worked as Head of Department (in various colleges) for English, Media and Key Skills (now called Functional Skills) over a 6 year period.
I have built up a wealth of experience in education including working as an English examiner for boards such as AQA, EdExcel, OCR and WJEC. I have also moderated A2 coursework for Edexcel English Literature.
With a passion for reading I completed an MA in English literature in 2011.  This has  enriched my teaching considerably and well equipped me to recommend books to further wider reading.
During my spare time I enjoy martial arts, walking my two dogs, eating out and reading.  My favourite writers include Jeanette Winterson (for adults), Eva Ibbotson and Lemony Snickett (for children and teens), Philip Larkin and Wilfred Owen (poetry).
 I take care of general administration
I enjoy working alongside Maria to ensure everything runs smoothly behind the scenes.  I pay good attention to detail and pride myself on being well organised and working to a high standard.
I use my IT skills to keep track of which tutors are tutoring which students and help Maria with general administration.
During my spare time I enjoy practising judo and working up the belt grades.
Our one-to-one tutoring service , 11-plus, GCSE and A-level revision courses can help your child achieve their full potential.